Services
We serve the Washington DC Metropolitan area, including Northern Virginia and Maryland.
Shade & Shutter Sales LLC is a full line window treatment company. We handle everything from an initial consultation in your home up to the final professional installation of your new window treatments. We help you make the right decisions so that you can achieve the look and functionality that will serve you for years to come. There are numerous choices to make and we help you avoid costly mistakes.
It's as easy as a phone call or an email to schedule your in home appointment. We will bring samples of the type of window covering you are interested in and take all of the needed measurements. There is no need to schedule a seperate appointment for someone to come back and get final measurements, as we do it all in one trip. Once you decide to place an order with us for your new window treatments, we handle all the details. You never have to worry about not getting the measurements correct or going through all of the hassles of filling out order forms. For most products the delivery and installation takes place in just 1-2 weeks from the date you decide to place an order. Some speciality windows and shutter manufacturers do take a little longer.
When your new window treatments are ready for installation we will contact you either by phone or email to schedule a convenient time for the installation. We try to schedule all of our appointments for an exact time of day, so you don't waste an entire day sitting around waiting for us to show up. Generally we will be within 15 minutes of a scheduled time or call you well in advance if we know that traffic is going to be a problem. It is our job to make sure that you are a happy customer and we want you to recommend us to your freinds and colleagues.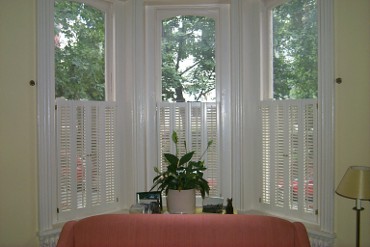 Contact Us